Corría el tiempo de descuento, la afición local observaba incrédula cómo el Queens Park Rangers ganaba 2-1 y le arrebataba el sueño del título a Manchester City. El pequeño equipo que peleaba el descenso había silenciado a uno de los estadios más grandes de Inglaterra, y los "Ciudadanos" sentían que la coronación, que a priori parecía segura, se les escurría cual agua entre los dedos. Todo esto, claro, hasta que llegaron primero Edin Dzeko, y dos minutos después Sergio Agüero, para dar vuelta la historia en una de las definiciones más impresionantes que el Mundo del Fútbol tuvo la suerte de atestiguar en la última década. El alarido del "Kun" se fundió con el del Etihad Stadium en su totalidad. El público desaforado desató la estruendosa celebración, ungida de las frustraciones y la resistencia estoica propias de 44 años de espera. Sin embargo, el grito de gol fue mutando paulatinamente, con espontaneidad natural, en las gargantas de una masa orgánica convertida en un solo ente colectivo, a través del cual 60 mil almas al unísono entonaban las estrofas de una vieja canción británica. "Hey Jude", un clásico inoxidable de The Beatles, y un símbolo de todo el Fútbol Inglés, pero especialmente del Manchester City.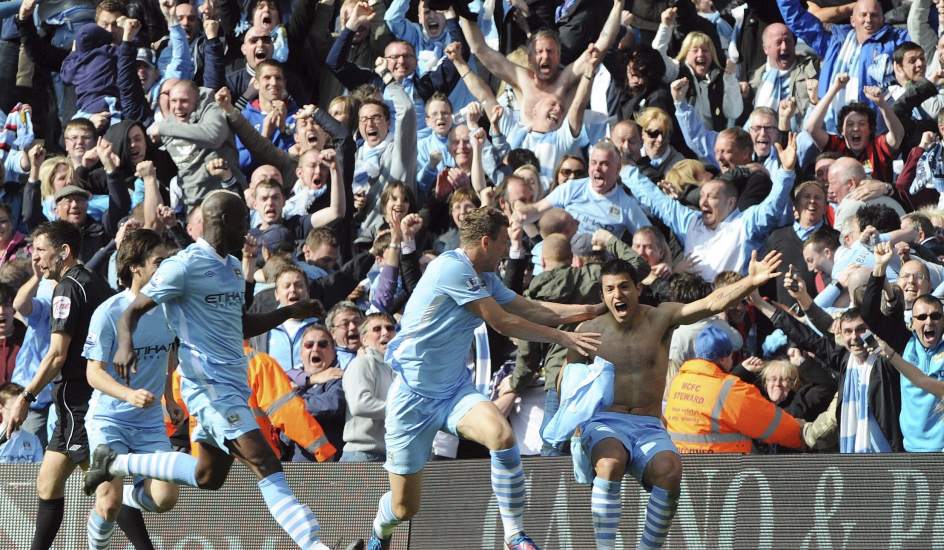 Casi cuatro décadas y media debió esperar una de las hinchadas más sufridas pero más fieles del país que inventó este deporte, para repetir la ansiada coronación de campeón de la Premier League. Con las presencias determinantes de Agüero, Carlos Tévez y Pablo Zabaleta, la 3era Liga ganada por los "Blues" (que disputan el derby de Manchester contra de United) tuvo un denominador común con relación a la 2da, una canción que con el paso de los años adquirió calidad de himno icónico entre varias parcialidades inglesas. Si bien no es exclusiva, "Hey Jude" se convirtió en marca registrada y decorado infaltable de todos los festejos del City, desde que sus fanáticos la cantaran por primera vez en 1968, año en que la canción fue lanzada, para festejar la consecución de su 2da Premier League. Compuesta inicialmente por Paul McCartney, "Hey Jude" se dio a conocer en agosto de 1968, como primer sencillo del álbum homónimo. Debutó en el N°1 de los charts en el Reino Unido y Estados Unidos, y se mantuvo allí por varias semanas, además de ser considerada por la crítica especializada como una de las mejores canciones de todos los tiempos. Su nombre original era "Hey Jules", ya que fue ideada como intento de consuelo para Julian, hijo de John Lennon y Cynthia Powell, luego del divorcio de sus padres. El espíritu optimista y el mensaje de superación ante las adversidades son, posiblemente, los motivos por los que los hinchas del Manchester City, más acostumbrados a las derrotas que a las victorias, se sintieron interpelados por el cadencioso estribillo de esta agradable balada. Actualmente, y desde hace 47 años, es un símbolo más de aquellos que representan con franqueza la identidad del Club, y atraviesa con emotividad todas las apasionadas generaciones de aficionados.
LA HERENCIA DE LOS BEATLES
En la hazaña perpetrada por los dirigidos por Roberto Mancini en 2012, el festejo característico encarnado en los versos de "Hey Jude" contó con un aditivo particular: dos de los presentes que sumaron su voz a la multitud fueron Noel y Liam Gallagher, célebres hinchas del Manchester City. Vocalista y violero respectivamente, Liam y Noel fundaron en 1991 el grupo de Rock, Oasis. Hasta su separación en 2009, la banda de los Gallagher fue una de las más populares en toda Gran Bretaña y, tanto por su sonido como por su imagen, fue señalada por muchos como una suerte de pequeña heredera (salvando las distancias) de The Beatles. Autores de hits reconocidos internacionalmente como "Wonderwall", "Stand by me" y "Don´t look back in anger", los hermanos hoy no se pueden ver la cara, pero siguen compartiendo su amor incondicional por el "Citizen". En la lista de reconocidos adeptos del City también figura Johnny Marr. El fanatismo del histórico ex-violero de «The Smiths» lo llevó a dedicarle un tema al «Kun» Agüero en pleno show, durante la edición 2014 del festival alternativo Lollapalooza. Más de 120 años de antigüedad, numerosos ídolos y un puñado de títulos y aislados momentos de gloria que no alcanzan a hacerle justicia a su afamada hinchada, son las credenciales del Manchester City, una institución que encontró en el Rock un mítico himno que se convirtió en una bandera, un canto representativo de los valores e ideales del Club. Una evidencia más de la facilidad que encuentran el Fútbol y la música para estrechar sus manos, abrazarse, entrelazarse y erigirse simultáneamente como columnas fundamentales del sostén de la pasión de cualquier pueblo.